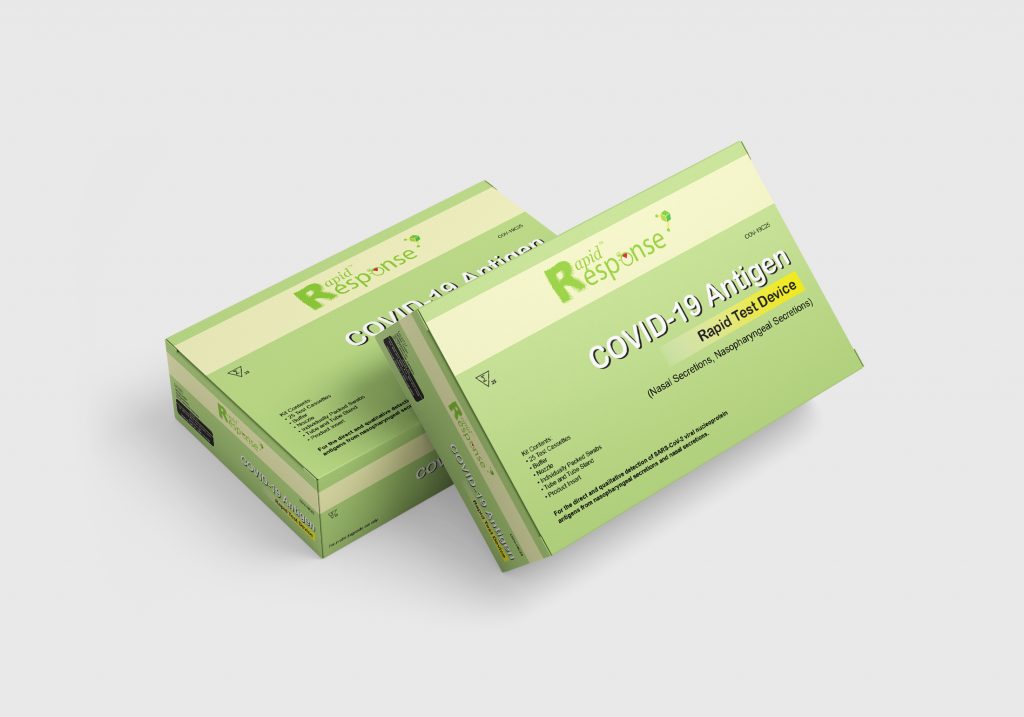 *Rapid Response COVID-19 Rapid Test Device (Whole Blood)

(25 Test Kits per Box)

Description:
Rapid Response® COVID-19 IgG/IgM Rapid Test Device is the first of its kind in Canada and is currently authorized by Health
Canada (Interim Order #313076) for Point-Of-Care Use with fingerstick blood sample. The test device can rapidly & qualitatively test for the presence of anti-SARS-CoV-2 IgM and anti-SARS-CoV-2 IgG antibodies in human whole blood, serum, or plasma samples.
Easy to Use:
Bring all testing materials and specimens to
room temperature (18-30°C) before use.
1. Add 1 drop of whole blood.
2. Add 2 drops of the included buer solution.
3. See results in 15 minutes.
PCR Validated Samples
Clinical Study Results Using Fingerstick Blood Samples
*15 Days from Symptom Onset:
IgG Sensitivity – 100%
Combined Sensitivity and Specicity Data:
IgG Sensitivity – 90.5%
IgG Specificity – 100%
*IgG antibodies become detectable 1-3 weeks after infection.
IgM Sensitivity – 88.1%
IgM Specificity – 100%
*Product approved from Health Canada
$17.50 / Test Kit

Min. Quantity: 1 Box / 25 Test Kits

*Product Approved from
Health Canada
Product Information:
Product Code: COV-13C25
Sample: Whole Blood / Serum / Plasma
Format: Cassette
Quantity: 25 Tests/Kit
Specificity: COVID-19 virus IgG and IgM antibody
Time to result: 15 minutes
Storage Condition: 2-30°C/35.6-86°F
Test Principle: Immunochromatographic Lateral Flow Assay
Contents:
Test Cassettes
Disposable Pipettes
Buffer
Product Insert

Product Brochure: BTNX Covid-19 Antibody COV-13C25 (CAN-EN) (05-2021)