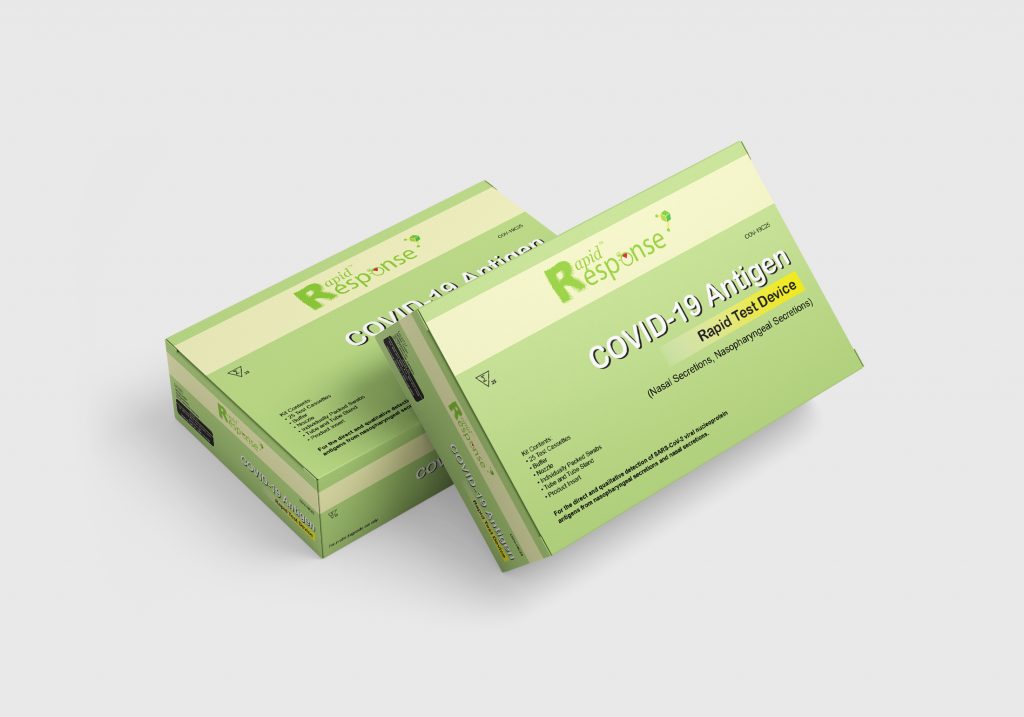 *Rapid Response COVID-19 Rapid Test Device (Nasal)

(25 Test Kits per Box)

Description:
Rapid Response® COVID-19 Antigen Rapid Test Device is an efficient and cost-friendly method of
detection. In just 15 minutes, the test can detect the SARS-CoV-2 viral nucleoprotein antigens through visual
interpretation of colour development. The test is intended for use with Nasal and Nasopharyngeal swab
specimens within 6 days of symptom onset.

Easy to Use:
Bring all testing materials and specimens to room
temperature (18-30°C) before use.
Result Time:
1. Add 10 drops of buffer into tube.
2. Collect nasal/nasopharyngeal sample.
3. Extract sample by mixing it with the buer.
4. Add 3 drops to device.
5. Read results in 15 minutes
Specimen Collection:
Nasal Swab (Anterior Nares), minimum 0.5 inch.
*Product approved from Health Canada
$11 / Test Kit

Min. Quantity: 1 Box / 25 Test Kits

 *Product Approved from
Health Canada
Product Information:
Product Code: COV-19C25
Sample: Nasal / Nasopharyngeal secretions
Format: Cassette
Quantity: 25 Tests/Kit
Time to result: 15 minutes
Storage Condition: 2-30°C/36-86°F
Test Principle: Immunochromatographic Assay
Contents:
Individually packed test devices
Extraction Buffer
Extraction tube
Nozzle with filter
Tube stand
Individually packed swabs
Package Insert
Product Brochure: BTNX COVID-19 Antigen Test COV-19C25 (CAN – EN) (05-2021)