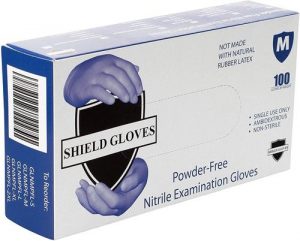 Powder-Free Nitrile Examination Gloves
Price per unit: $17.50
Min. Quantity required to purchase: 1 Box 100 pcs

(Color: Blue, Thickness 4 Mil, Size: Small or Medium)

Description:
NITRILE EXAM GLOVES: Pack of 1000 Protective gloves provide superior chemical resistance to a broad range of chemicals. Flexible and resilient, these gloves offer a consistent fit you can depend on. Textured outer finish. Excellent dexterity and comfort. Exceptional strength and durability. Latex and allergy-free. Thickness 4 Mil. Medium size. Meet ASTM, FDA standards. 
HIGH QUALITY: These disposable gloves are made from an exceptionally thin chemical-resistant, laminated film. Thanks to their powder-free design, these gloves are elastic and durable. Our blue nitrile barrier gloves offer 4 mil protection while still providing excellent dexterity, flexibility and tactility. Their blue color aids in seeing trace evidence that may have been picked up on the fingertips. Robust construction prevents rips, tears and breaches. No latex protein content. 
RELIABLE PROTECTION: Our nitrile disposable gloves represent the ultimate barrier against harmful exposures. These disposable, powder free nitrile barrier gloves are far superior to latex gloves for protecting officers from blood-borne pathogens and other hazardous materials. These innovative new hand protective gloves significantly reduce the risk of exposure to harmful waste because it offers superior chemical splash protection and exceeds traditional measures of disposable glove quality. LOW-COST: Nitrile gloves are lightweight, comfortable and cost-effective. These eco-friendly hand covers feature affordably priced disposable design. Our lightweight gloves offer effective and economical protection. The organic material helps to keep the case weight down when ordering in bulk. Wholesale price. We passed our savings on to you! 
WIDELY USED: These chemical resistant gloves offer tough protection for demanding industrial applications. Suitable for aircraft assembly, transportation, chemical processing, graphic arts and printing cleanup, acids, salts. These exam gloves are a great choice for mechanics, maintenance personnel, plumbers, food-processing applications to maintain a clean, professional look. Perfect for food prep, you don't have to worry about any powder coating coming into contact with your food.
Specification:
Disposable Nitrile Gloves with strong puncture resistance
Quantity: 1000 pcs
Size: Medium
Thickness: 4 Mil
Color: Blue
Form fitting High resistance to oil and grease
Workers often need a tough disposable glove when faced with jobs like machinery repair, tool degreasing or work area cleanup. Unfortunately, many disposable gloves rip or tear easily, have small pinhole defects, or degrade quickly after contact with oils, solvents or other chemical mixtures.
Made of 4 mil thick material, these gloves are a great way to keep your staff in compliance with health code regulations at all times. Sturdy protective gloves feature excellent chemical resistance against common chemicals, like carburetor cleaner, and many other specialty chemicals, such as iodine and butane. Perfect for everything from food handling and preparation to janitorial.
These industrial grade blue nitrile gloves are latex-free so those with latex allergies can work safely. Blue color brightens up your immediate work environment while providing excellent grip performing many tasks.