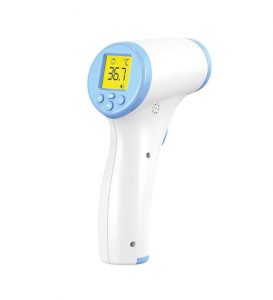 Non-Contact Infrared Thermometer
Please Contact Us for the Price!
Description:
Getting a quick and accurate temperature reading has never been easier with this handy Infrared Thermometer. With the ability to read temperatures in just one second, you don't have to wait around to know your reading. The non-invasive infrared technology allows this thermometer to read surface temperatures and is perfect for a fast no contact temperature check. This digital thermometer features: auto power off after 10 seconds, a low battery indicator, tri-color LCD display, easy switch Celsius to Fahrenheit readings and no contact measuring distance of 0.8 – 5.9 inches (2cm – 15cm).
Specification:
Dimensions: 4.53 x 2.17 x 6.69 in.
Fast – measures temperature in less than 2 seconds
No contact, measuring distance: 0.8 – 5.9 inches (2cm – 15cm)
Body temperature mode range: 93.2 – 109.2 F (34-42.9C)
Easy switch Celsius to Fahrenheit readings
Accuracy tolerance +/- 0.5 F (0.3 C)
Automatic warning alarm at temperature 100.4 F (38C) & higher
Auto power off after 10 seconds
Tri-color LCD display: green/normal, yellow/high, red/fever
Work environment ambient temperature: 60.8 – 95 F(16C-35C)
Low battery indicator
DC battery power: requires 2 AA batteries (not included)
Memory data: 50 groups
Tricolor Backlight: Green/Yellow/Red